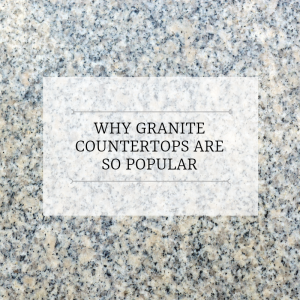 Since the 1980s, granite has been among the most popular countertop choices, and the attractive, durable material is here to stay.
Here are some of the many reasons why granite countertops are so enduringly popular:
Cleaning is a snap
Granite has a natural ability to protect against mold, mildew and bacteria. It's also easy to clean up spills on granite countertops.
It will increase the value of your home
If you have granite in your kitchen or bathroom, it will automatically increase your homes value. Think about it, the more popular something is, the more others want it in their homes!
It won't burn
Feel free to use griddles, fryers and toaster ovens without worrying about unsightly char marks.
You'll be on trend—for years to come
Granite comes in a variety of popular colors, from pearlescent black and white to rich brown and beige. You can even find interesting hues like blues and greens. Each piece of granite is unique, so your countertop will never be exactly like your neighbor's. If you're really going for a trendy look, try a textured finish. Best of all, the beauty of natural granite stone won't fade, and your granite countertops will look stunning for years to come.
Granite can be affordable
Think granite countertops are out of your price range? Think again! These days, you can find attractive granite countertops at a variety of price points.
If you live in the Buffalo area, Ivy Lea Construction can install granite countertops in your kitchen or bathroom at an affordable price. Contact us today!