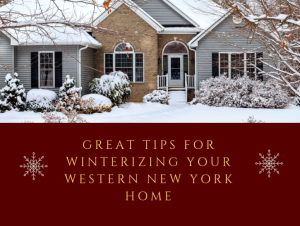 Is your home ready for the harsh Buffalo winter? Take a look at this handy checklist for winterizing your western New York home. Not only will these maintenance steps help you keep your family warm, but they'll also save you money on your utility bills.
Change your furnace filters
Call up an HVAC professional at the start of the season to make sure your furnace is in good working order. Also keep in mind that it's important to clean or replace your furnace filters once a month during the heating season. If you don't, the dirty filters will restrict airflow and drive up your energy costs.
Program the thermostat
Many people think of "smart homes" as far off science fiction, but there are aspects of our homes that make them pretty smart already. Take, for example, programmable thermostats. Take advantage of them by scheduling lower temperatures when you're sleeping or away from home. Just be careful not to make the changes in temperature too drastic. Letting it get too cold can waste too much energy constantly heating your home back up.
Install storm windows and doors
An extra layer of protection can work wonders in keeping out the winter chill. Storm doors and windows are a relatively affordable investment that will continue to save you money down the road. For even better insulation, you can cover windows with plastic insulation as well.
Prep your fireplace and chimney
Cap your chimney to keep rodents and birds out. If it hasn't been cleaned in a while, hire a chimney sweep to remove undesirable substances like creosote. Plan on using your fireplace this winter? Store firewood in a dry place away from your home's exterior.
Trim the trees
We don't just mean the Christmas tree. We mean tree branches that may be hanging near your roof, driveway or windows. Otherwise, snow and ice may accumulate on them, causing them to break and damage your home or car.
Adjust your ceiling fan
Many ceiling fans have a switch that changes the direction of the blades. Well, here's a little known secret. A fan moving in a clockwise fashion can actually push warm air back down to the ground. It sounds strange, but it works.
Cover any drafts
Warm air can escape through the tiniest of openings. If your home has leaks in its protective outer shell, you'll be shivering indoors—from the cold, and also from the fright you'll feel when you see your energy bill. Doors and windows are the most common culprits. Roll up towels to cover the drafts.
Looking for a contractor that knows how to prepare for Buffalo winters? Call Ivy Lea Construction at 716-875-8654 so we can help you winterize your home.