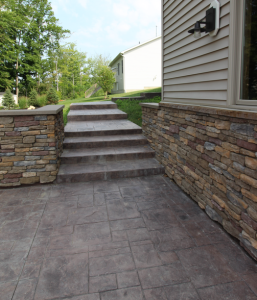 Have you been thinking about having stamped concrete installed outside of your home? If so, the only thing that might be stopping you is the fact that there are so many myths surrounding stamped concrete. These myths might lead you to believe that stamped concrete isn't the right option for you.
Let's take a look at a few of the stamped concrete myths and debunk them:
Myth #1: Stamped concrete costs significantly more than alternate options
Because stamped concrete looks so high-end, there are many homeowners who are under the impression that it must cost a fortune to install. But this couldn't be further from the truth. In reality, stamped concrete costs about the same as alternate options like natural stones and pavers.
Plus, when you maintain stamped concrete properly, it'll last longer than most other materials, which means you won't have to replace it as often. It actually makes stamped concrete one of the most cost-effective options available to you.
Myth #2: Stamped concrete will lose its color entirely too quickly
People love the look of stamped concrete when it first goes down. But many of them believe that the color of stamped concrete will fade too quickly over time. This is another belief that is simply not true. While stamped concrete might show signs of fading over the years if you don't care for it properly, putting a high-quality sealer over it should prevent most fading from taking place. You can keep your stamped concrete looking like new as long as you maintain it.
Myth #3: Stamped concrete will start to crack and break down before you know it
Stamped concrete isn't going to last forever. It will, eventually, start to crack and break down just like any other kind of concrete. However, stamped concrete is actually very resistant to cracking and, when you take steps to take care of it, it should hold up for a long time before it needs to be replaced. You won't have to worry about it breaking down on you too soon as long as you have it installed the right way.
Myth #4: Pavers are a quicker way to achieve the same result
Stamped concrete is actually one of the fastest ways to achieve a patterned look and doesn't require the extensive labor effort of installing myriad individual paving stones. In fact, the California Department of Transportation lists stamped concrete as a preferred installation option due to the reduced labor requirement and faster completion time.
Now that you know the truth about stamped concrete, would you like to learn more about having it installed on the exterior of your home? Ivy Lea construction specializes in installing stamped concrete driveways and patios and can help you take advantage of everything stamped concrete has to offer. Call us at 716-875-8654 today to put in a new driveway or patio.