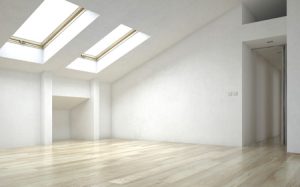 Do you have a room in your home that always seems to be on the darker side no matter what you try to do to it? One way to get rid of this problem is by installing a skylight in it. Whether it's a bathroom, a kitchen, a living room, or even a bedroom, you can draw more light into it and make the room more pleasant overall with a skylight.
There are other benefits that come along with skylights, too. Check them out below.
Skylights can cut energy costs
You're probably not going to spend very much time opening and closing your skylights in the middle of the winter. But once the spring and summer roll around, you can use your skylights to bring down your energy bills. Skylights allow warm air to escape from your home and promote circulation. You won't have to run your cooling system as often as you do now once they're in place.
Skylights can boost your mood
Seasonal affective disorder, also known as SAD, is a mood disorder that affects quite a few people in Western New York in the wintertime. In the winter, people don't get access to nearly as much natural light as they do at other times of the year, which can cause some people to feel depressed. Skylights will provide you with more access to natural light than you have now and could reduce the symptoms associated with SAD while boosting your mood.
Skylights can maintain your privacy
If your neighbors live relatively close to you, you might have to sacrifice your privacy in order to allow light to enter your home right now. Skylights won't force you to do this anymore. You can close the window treatments on your windows to make your home more private while allowing light to stream into your home through your skylights. You'll feel more comfortable when you're walking around in your house during both the day and night.
If you'd like to enjoy the many benefits of installing skylights in your home, Ivy Lea Construction can put them in for you. Call us at 716-875-8654 today to take advantage of our window installation and replacement services.