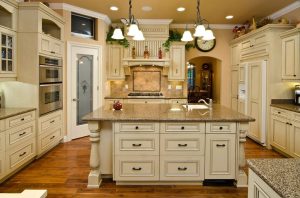 The kitchen is the most frequently used room in the house, and we can remodel it to include new custom cabinets, new flooring, and new solid surface or granite countertop. Kitchen remodeling is one of the best resale investments.
Whether you are looking for more space, a better flow, more storage, an updated look or something else, Ivy Lea Construction can help make your ideal kitchen. The kitchen is the most functional room in your house and having a usable, accessible and attractive space is essential to enjoying it. We provide quality kitchen remodeling with strategic planning and development that won't break your budget or disrupt your schedule.
Make your kitchen shine again with contemporary countertops and cabinets and redesign awkward spaces to suit your preferences perfectly. Your old kitchen is a blank page and you can recreate the layout, features, look and feel to make your own signature masterpiece. From complex electrical and plumbing changes to subtle refinishing, our contractors' years of experience and knowledge make every job, large or small, a complete success. Your redesigned gem will maintain its captivating shine and functional efficiency for many years of Thanksgiving feasts, birthdays, family gatherings, romantic dinners and more.
Take a look at the gallery to see other beautifully remodeled kitchens and jumpstart your inspiration. Ivy Lea Construction serves Buffalo, Tonawanda, Kenmore, Amherst and the surrounding areas in Western NY. Contact us today to receive a free quote and for more information on special financing options.
Check Out Our Work