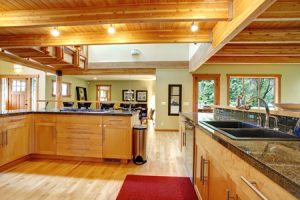 Kitchen renovations are among the most costly home projects – yet they often yield the highest reward. Homes with new, updated kitchens can expect to recoup most, if not all of the cost of the renovation in added resale value. For this reason, kitchens are often the first place homeowners look when choosing a renovation plan for their home.
Where can you get the biggest bang for your buck? It's all in the cabinets. The first thing you will notice when you walk into any kitchen is the design of the cabinets. In a modern kitchen, homeowners and buyers like to see updated cabinetry paired with stainless steel appliances and a spacious center island if the room allows. Does this sound like your kitchen? If not, here are some tips that can help you to choose the best cabinets for your kitchen renovation project.
Types of kitchen cabinets
First, you'll need to know about the types of cabinets available to you. If you start your search online, you're likely to see a lot of cabinets from companies like IKEA. These cabinets are known a RTA or READY TO ASSEMBLE This option is for those of you who are looking to do a very inexpensive remodel and are not worried about long-term value. The RTA cabinets are ordered from a box store and arrive at your door in pieces with pre-drilled holes and directions on how to put them together. Although cost-effective, these cabinets are often temporary fixes or are best left for rooms with less daily use like a utility room or craft room.
If you walk into the Lowes, Home Depot, or a local home improvement store, you'll find an amazing selection of all kinds of appealing colors and designs for cabinetry. Keep walking past the staged kitchens and you'll see actual cabinets that are ready to take home and put in place. These cabinets are known as STOCK CABINETS. They are pre-designed and built for specific layouts. These are great cabinets if you know you have a very typical kitchen space to fill and you are not looking for any custom details. With stock cabinets, you lose flexibility in design due to the fact that the pieces are pre-manufactured. We recommend stock cabinets to homeowners who are on a tight timeline and budget, and who do not mind compromising on custom features.
Custom cabinetry is everyone's dream. Each cabinet is made to order and individual needs are taken into account. Cabinets can be designed to precisely fit a given space, or function in a special way. Lazy Susans, pantries, cabinets that pull out to reveal a dog food station—these are all possible with custom cabinetry. You choose the type of wood, color, style, hardware, and construction.
For homeowners who want to best of both worlds, you can find SEMI-CUSTOM CABINETRY. These kitchens are designed using a mix of stock and custom cabinets thus offering a more affordable price and an easier design process.
Cabinets are one of the biggest investments in a new kitchen, and they can often make or break the style of the room. That puts a lot of pressure on you to make the right decision when choosing between cabinets. There's even more pressure when you're getting custom cabinets, as you have even more decisions to make, from the style to the material.  That's why we've put together this handy guide to give you all the information you need to select the right custom cabinets for your kitchen.
Cabinet Materials
What the cabinets are made out of should be one of your first decisions. Solid wood cabinets remain the most popular choice, but there are plenty of other good options available.
Solid Wood
The most popular choice these days for kitchen cabinets is, of course, solid wood. From hickory to red oak, you have tons of options to consider for solid wood. However, keep in mind that solid wood is susceptible to moisture and can warp easily if left unfinished.
Medium Density Fiberboard (MDF)
MDF is a high-grade composite material made out of recycled wood fibers and resin. MDF is extremely stable, stands up to heat and humidity, and resists cracking and peeling much better than its solid wood counterpart.
Plywood
A relatively low-cost material, plywood is said to have a higher resistance to moisture and greater stability than MDF. It's made by laminating thin layers of wood to each other, with the layers bonded with glue under heat and pressure.
Particleboard
Particleboard is made out of wood particles, and as a result, it's one of the least stable cabinetry materials. New technology, however, has improved the resins that bind the particles, making it more reliable than it's been in the past.
Stainless Steel
If wood or wood alternatives aren't what you're looking for, there's always stainless steel. This material will give your kitchen a very contemporary feel, and since it doesn't expand or contract like wood, you don't have to worry about damage from moisture. It is, however, hard to clean off fingerprints and scratches.
Cabinet Construction
There are two main types of cabinet construction you'll have to consider: framed and frameless. Here's a quick breakdown:
Framed Cabinets
These cabinets have, obviously, a frame at the front of the cabinet box, attached to the door. It gives the cabinet extra strength and dimension, as well as flexibility in the types of door mounts you can choose from (see below).
Frameless Cabinets
Again, as the name suggests, frameless cabinets lack a frame—they rely on a denser box construction instead of a frame for strength and stability. Due to their contemporary style, frameless cabinets have become a bit of a trend in recent years, but they do have drawbacks. Unlike framed cabinets, for instance, you are extremely limited in the type of door mounting, as you can only use full overlay doors.
Cabinet Door Mounting
There are three main types of door mounting: full overlay, partial overlay, and inset. While framed cabinets can use any of these, frameless is restricted to a full overlay. Here are the major differences:
Full Overlay
The door covers the entire face of the frame.
Partial Overlay
The door only partially covers the face of the frame, usually exposing 1" to 2".
Inset
The door is set inside the face frame instead of on a top-like overlay.
Cabinet Door Styles
There are dozens of different cabinet styles to choose from, but here's a rundown of some of the most popular designs:
Beaded
Best for country-styled kitchens, beaded doors feature panels with a single or double groove (or "bead"), giving it a striped appearance.
Arched Cathedral
These are shaped like an arched window, either recessed or raised within the door frame, providing a more traditional appearance.
Mission
Flat-panel doors, often with a recessed center and simple, clean lines.
Raised Panel
Unlike mission doors, these cabinets have a center that is slightly raised, creating extra detail and depth.
Shaker
These cabinets are flat-paneled with a recessed center, very similar to mission doors, except they have a narrower frame molding.
Flat Panel
As the name suggests, flat panels are flat, lacking the recessed or raised centers of mission and shaker doors.
Cabinet Hardware
Finally, one of the major things to consider is the type of hardware you put on your cabinets. There are hundreds of styles to choose from, so keep in mind the general style of your kitchen (for example, is it rustic or modern?) and the practicality of the hardware (knobs are generally used for doors and pulls for drawers).
Now that you've got the basics, it's time to get started on your project. If you're in the Buffalo-Niagara Area and need a hand with your next big kitchen renovation? Give us a call or request a free estimate today to speak with one of the experienced contractors at Ivy Lea Construction.