One of the major developments in "kitchen style" during the past decade is the popularity of granite countertops. New builds typically have them, and older homes are catching up as homeowners looking to update their kitchens are enjoying the many benefits of appealing, new granite countertops.
One of the reasons granite countertops are so popular is that they have a plethora of advantages over other materials.  Let's take a look at a few advantages.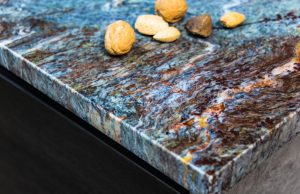 Easy to clean
First, granite countertops are easy to clean so long as they are properly sealed. They're sanitary and don't harbor bacteria. Go ahead and spill orange juice or vinegar on granite—it holds up well to eroding acids.
Durable
Next, granite is hard and strong, so you can cut on it without worrying about scratching it. You won't need cutting boards anymore, and you can also use the surface to roll out dough, fudge, and caramels. This feature is why bakers love granite countertops.
Additionally, granite does not burn, so you can use griddles, fryers, and toaster ovens on it and not worry about char marks or burns.
Beautiful
Many people like updating their kitchen countertops with granite because of its unique beauty. Available in many different colors and patterns (like specks or swirls), granite countertops contain small crystals which catch the sunlight during the day. Your countertops will literally sparkle! Best of all, the beauty of natural granite stone doesn't fade over time—your countertops will still look great years after installation.
In the Buffalo area, Ivy Lea Construction can provide you with granite countertops; call us at 716-875-8654 to get started.