Is your bathroom outdated? Does it feel like you're stepping back in time to the 1950s each time you use it? Are your cabinets and fixtures really, really old? If so, it may be time for a change.
Here we discuss some of the top signs that it's time for a bathroom remodel: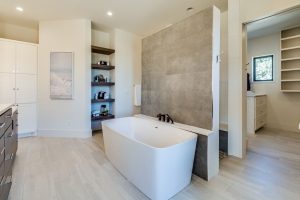 You need more space
In the old days, when many Buffalo-area homes and bathrooms were constructed, people didn't demand as much space as they do now.  Consequently, the lack of space has made it difficult to comfortably fit all of the toiletries, towels, washcloths, cleaning supplies and other items homeowners accumulate.
Alternatively, you may want a larger bathroom for comfort purposes.  The bathroom is a vital room in your home, as it's something you will use each day you live there. Maybe it's time to break down a wall, and expand your little bathroom into a roomy place to escape to, complete with a nice, big tub for bubble baths, and not just one sink, but two so you and your spouse or significant other each have your own.
There's mold and mildew
Other people come to Ivy Lea Construction with bathroom remodeling needs because their current bathroom is full of mold and mildew. That's not healthy. Ivy Lea can renovate the bathroom so warm air doesn't get trapped and contribute to mold and mildew problems.
You have high water bills
There are even some homeowners that choose Ivy Lea to improve their bathroom because they're paying way too much for their water bills. You'd be amazed at how much money you could save by replacing inefficient toilets and shower heads that are wasting water.
You're planning to sell your home
Finally, if you're thinking about selling your home, it's best to update your bathroom, since that's what potential buyers will care about—they want something that rivals what they see at today's nice hotels instead of a cramped, old, moldy bathroom out of some bygone era.
Let Ivy Lea Construction help you improve your home by creating a better bathroom. Contact us today to learn more!