How to Properly Care For Your New or Old Porch
Home maintenance covers both the interior and exterior of a house. The indoor is protected by the walls and windows, whereas the outdoor, has no protective barrier, which means maintenance needs to be kept up more often.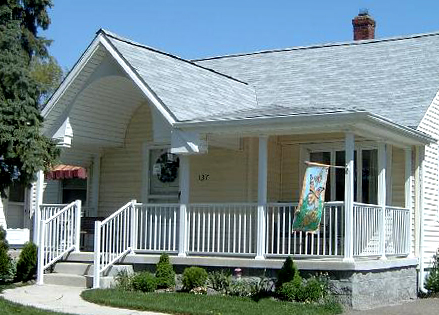 Your porch serves as an outdoor oasis, a place where you can sit and enjoy the weather, bury yourself in a good book or watch your kids play in the yard. Protecting this space is important.
It doesn't matter if your porch was newly built or built at the same time as the home, there are a few things you should do often to guarantee you'll always have an outdoor place to relax.
Information courtesy of marthastewart.com
1. Sweep, dust and wash your entire porch. Porches often become a resting place for dirt and insects, which makes the space less inviting as if it were clean. By using a wide push broom and light cleaner, the tasks are quick and easy.
2. Remove debris, both large and small. If your porch is open, you'll find that sticks and leaves often make their way onto the porch. Lumber that has been pressure-treated for moisture resistance can withstand wetness, but it's still annoying to try and move about with unnecessary clutter on your porch.
3. Shovel after a snowstorm. Snow is heavy and the last thing you want is a warped wooden porch, especially if your porch is old and is not as strong as when originally built. Keep a shovel handy, which makes the job a little easier and faster.
4. Clean up spills on concrete porches to avoid staining and also stain wooden porches to preserve longevity and appearance.
If you've been dreaming of a place where you can enjoy the outdoors, relax, mingle with family and friends, then a porch is just what you need. At Ivy Lea Construction, we build the most beautiful and functional porches out of materials that last!