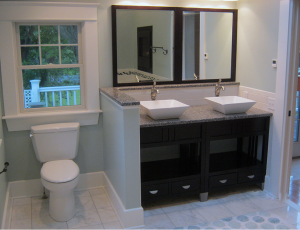 Choosing the right bathroom cabinets is one of the most important decisions you'll make when designing or remodeling your bathroom. Not only do bathroom cabinets serve an important function (you want enough room to store all your bathroom supplies), they're one of the first things about your overall bathroom décor that people will notice.
Here are some tips for choosing bathroom cabinets:
Think about how much storage space you'll need
A family of four all sharing one bathroom will need a lot more cabinet storage space than a single person. Also think about how much you'd like to store in your bathroom. Will you keep all your towels and washcloths in your cabinets, or would you prefer an adjacent closet?
Consider texture and color
Lighter-colored cabinets will reflect light and make the bathroom look larger. If you have a small bathroom, pick a smooth texture, as too many contrasting textures will make the bathroom appear smaller than it actually is. Regardless, choose finishes that can withstand heat, water and moisture.
Pick a quality grade
Bathroom cabinetry is available in four basic grades, from RTA (ready to assemble) to custom. If you don't need many choices or flourishes, try stock cabinets, which are good quality and affordable.
Now that you've chosen your bathroom cabinets, you need someone to install them. It may be tempting to do it yourself, but cabinet installation really is best left to the pros. If you're a Buffalo-area homeowner, call Ivy Lea Construction at 716-875-8654 so we can get the job done!